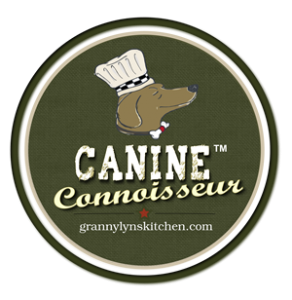 Granny Lyn is passionate about dogs and their well being, and always has a special place in her heart for them. She is also a great baker. So she thought why not put the two things she loves a lot together and start making wholesome, great tasting treats for furbabies.
Thus Canine Connoisseur™ was established to provide all natural artisan dog treats, handmade in the heart of Muskoka (Huntsville Ontario). Canine Connoisseur™ treats have been created to combine canine nutritional needs with amazing, great tasting, crunchy treats.
All the ingredients that are used in Canine Connoisseur™ treats are human grade (same ingredients used in Granny Lyn's Kitchen for human treats!); fresh whole eggs, canola oil, organic molasses, Ontario honey, Canadian whole wheat flour (for the gluten treats), and pea flour (for gluten free treats).
Herbs such as mint (Mentha piperita), parsley (Petroselinum crispum ), and rosemary (Rosamarius officinalis) are grown on site without the use of chemical fertilizers and pesticides,and dehydrated immediately after being harvested. Canadian wild blueberries sourced from Nova Scotia, Canadian pureed pumpkin, and Ontario Granny Smith and/or Gala apples are used to create nutritionally rich biscuits.
None of the fruits or vegetables used in the treats are GMO, nor are they irradiated. The meat is sourced from a local butcher. Canine Connoisseur™ treats do not contain any chicken byproducts (feathers, beaks and feet) or meat meal (bits of poor quality protein and fur).
You will never see corn, soy protein, or any additives such as salt, artificial dyes, or artificial preservatives (used to extend the shelf life of the treats) on our product labels. And you will not find any ingredients that you cannot pronounce, or wonder what they are or why they are in dog treats.
Granny Lyn believes that Canine Connoisseur™ treats are one of the best you can give your pet. She thinks your dog(s) will agree!