Unique and Special Diet Biscuits, by request – learn more…
Buster's Peanut Butter & Cinnamon Cookies available in 120 g (4.2 oz.) bags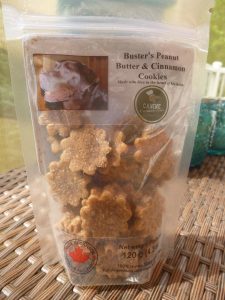 Which type of peanut butter is the best – Creamy or Chunky? The debate continues for our furbabies as well, so why not let your dog try both types. Peanut butter and cinnamon combined to make our best loved biscuit.
---
AmberLyn's Pumpkin Spice Cookies available in 100 g (3.5 oz.) bags

.
Pumpkin is not just for Thanksgiving anymore. Pumpkin is well known for providing fiber to help with healthy digestion. Canadian pumpkin puree is combined with cinnamon to produce a lower calorie treat with a taste dogs love.
---
Give Me a Kiss (Mint & Parsley) – Regular and Mini sizes available in 120 g (4.2 oz.) bags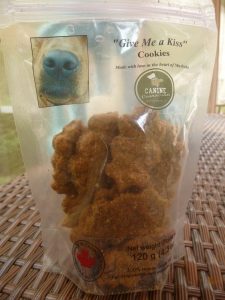 When your pooch wants to give you a smooch, you will be grateful for these cookies, as they help freshen the breath while cleaning their teeth. The refreshing taste of peppermint helps freshen breath, and can be used to settle nausea and calm the stomach. Parsley is well known to be a breath freshener, and has other amazing benefits such as providing significant amounts of Vitamins A, C, B1, B2 and Vitamin K. Both of these herbs are grown on site without the use of chemical fertilizers or pesticides.
---
Abby's Apple & Cinnamon Oat Treats available in 125 g (4.4 oz.) bags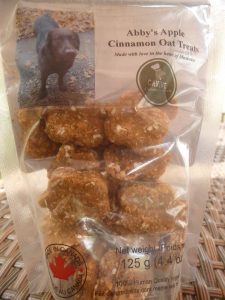 These biscuits taste like an apple pie, only in a bar form. Perfect for a snack, or break them into smaller pieces for training tidbits. Canadian sourced apples, mixed with Canadian Oats and Cinnamon.
---
Quincy's Gingerbread People – Regular and Teensy sizes available in 120 g (4.2 oz.) bags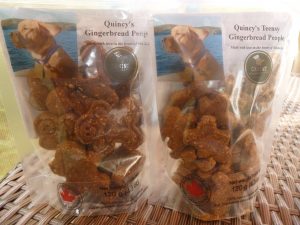 These cookies make a great gift during the holiday season, reminiscent of Granny Lyn's ginger snaps with ginger and organic molasses.
---
Bower's Wild Blueberry Bites available in 120 g (4.2 oz.) bags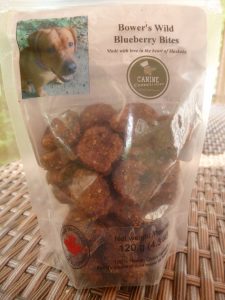 Made from Nova Scotia wild blueberries these cookies are packed with loads of flavour. Wild blueberries are believed to contain the highest antioxidant capacity of ALL commonly consumed fruits and vegetables. And the antioxidants in blueberries tend to accumulate in areas of the brain that are essential for intelligence.
Unique and Special Diet Biscuits, by request – learn more…