---
Rum Brownies
Granny Lyn recommends that you should not eat one of her Rum Brownies and get in a car and drive. Semisweet chocolate and dark Jamaican rum make these brownies very decadent. Granny Lyn has been told these are the best brownies that her Customers have ever eaten, try one and let her know.
---
Cappuccino Brownies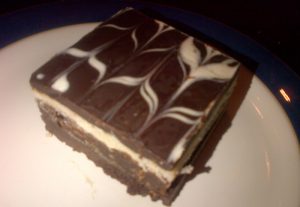 Decadent chocolate and espresso brownie layer covered with Cinnamon cream cheese frosting, topped off with a Bittersweet chocolate glaze and White chocolate cinnamon drizzle. Can be stored in the refrigerator for up to six weeks or frozen.
---
Bourbon Brownies
For a southern inspired brownie, try the combination of dark chocolate, cocoa, and Bulleit Bourbon Whiskey, then topped off with a shiny bourbon glaze. The brownie is so fudgy and decadent, and even better warmed and served with vanilla ice cream. It takes the brownie sundae to another level.
---
Browned Butter and Pumpkin Squares
Canadian sourced 100% pumpkin puree (not pumpkin pie filling which has added ingredients and sweeteners) is combined with pecans to create moist and spicy squares, and then iced with a browned butter icing. These squares can be enjoyed anytime of the year, not just for Thanksgiving.
---
Chardonnay and Cashew Blondie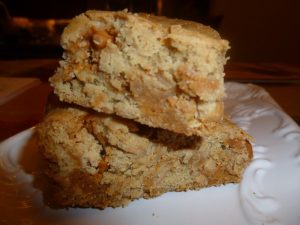 These classic blondies are both buttery and nutty. Chardonnay that has been aged in oak barrels is combined with cashews & butterscotch morsels and baked to perfection, with a golden shiny finish.
---
Rum and Raisin Blondie
Another spirited blondie, this time with plump juicy raisins that have been soaked in rum over a couple of days. There is something very magical the combination of rum and butterscotch.
---
Lemon Squares
These lemon bars have a sweet buttery crust topped with a tart and creamy lemon curd that makes you pucker up. A light dusting of icing sugar finishes these amazing squares, perfect with that afternoon cup of tea.