Having a dinner party or the In-laws are coming over and you need/want a dessert to impress them?
Let us help if you don't have enough time to make to bake. We can take the worry off your plate and put it on ours!
Bread Pudding
This bourbon infused bread pudding is like no other bread pudding you have tried before. The raisins are soaked for days in bourbon before they are mixed together with brioche bread chunks and custard. After the pudding has baked to a golden brown crust, a bourbon glaze is poured over top. This is as southern style comfort food as you can get while still in Muskoka.
---
Pound Cakes. Flavours to suit every craving
Classic – with maraschino cherries
Sunny lemon, glazed with citrus syrup
Island Rum Runner, glazed with dark rum syrup
White chocolate, orange and cranberry – very festive for Christmas, drizzled with white chocolate and topped off with orange zest.
Bourbon, glazed with bourbon syrup
Chocolate, drizzled with ganache and topped off with chocolate curls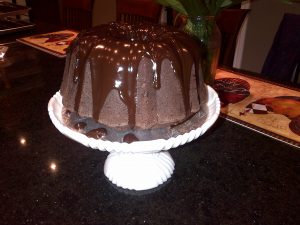 ---
Coconut Cake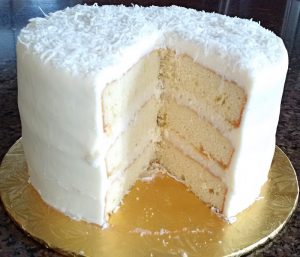 Triple layer Coconut cake with a coconut creamy filling and butter cream icing, covered with shredded coconut. One of Granny Lyn's favourite desserts to share with friends and family.
---
Red Velvet
Traditionally prepared, this triple layer cake has the distinctive red chocolate colour from buttermilk and coco powder. These ingredients give the cake a subtle, yet distinctive and delicious flavor that is not quite chocolate and not quite plain vanilla. The cake is topped off with a generous amount of cream cheese icing, which adds even more flavour to the cake and gives it a high contrast red and white finish.
The exact origins of this cake are unknown, but there are plenty of theories out there that try to explain how the cake got to be red. The original red velvet cake is said to have had a reddish hue that was caused by the reaction between natural cocoa powder and an acidic ingredient, like buttermilk.
---
Boston Cream Pie
Classic sponge cake with a rich vanilla pastry cream filling then topped with a smooth chocolate ganache. Note: Ever wonder why this dessert is called a pie and not a cake? Cooks in New England and Pennsylvania Dutch regions were known for their cakes and pies and the dividing line between them was very thin.  This cake was probably called a pie because in the mid-nineteenth century, pie tins were more common than cake pans.  The first versions might have been baked in pie tins.