Cupcake Cakes
Serving a crowd? Cupcake cakes can be extremely user friendly and made as large as you want. They are very easy to serve, just pull a cupcake away from the main cake – no cutting is required!
---
3 Dimensional
Amazing 3-D and sculpted cakes are available. These cakes are quoted individually, as we strive to create the exact cake you want.
---
Cupcakes – Minimum order a dozen
Beer Run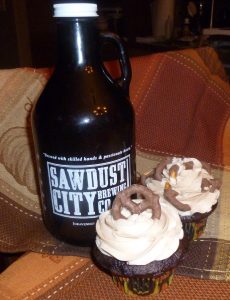 Chocolate stout cake with Sawdust City Brewery beer butter cream, topped off with chocolate covered pretzels; Granny Lyn's Kitchen specialty!
---
Salted Caramel
Chocolate cake with salted caramel butter cream drizzled with a thick and creamy caramel sauce.
---
Maple Praline and Cream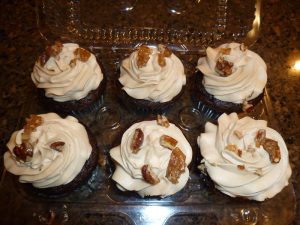 Homemade pralines top this cupcake made from maple cake and praline & cream icing.
---
Pina Colada
Pineapple cake with dark Jamaican rum butter cream and sprinkled with toasted coconut chips, with a cherry on top – just like the drink.
---
Strawberry Shortcakes
Strawberry cake with rich vanilla bean butter cream, finished with fresh strawberry dipped in white chocolate
---
Very Vanilla Bean
Vanilla cake speckled with vanilla beans, swirled with vanilla butter cream and your choice of coloured sprinkles
---
Orange Creamsicle
Orange cake and vanilla bean butter cream, with an orange pearl on top.
---